Carpet in Brookfield, WI
Are you looking to create a one-of-a-kind modification to the interior of your home or business? Replace your old carpet with a new one to give your home a facelift. Replacing your old carpet flooring not only improves the appearance of your space, but also improves the indoor air quality and, as a result, the health of your occupants.
Carpeting is a popular choice among home and business owners around the country as it complements practically any aesthetic, decreases noise pollution and provides a soft cushioning underfoot. Choose from an incredible range of premium-grade flooring from FloorTech Interiors Flooring America to enjoy the soothing sensation of carpeting beneath your feet.
We proudly offer a broad assortment of carpet flooring in Brookfield, WI at our expansive showroom. Customers will find a wide assortment of flooring options from some of the industry's top manufacturers when they walk through our doors. When you're ready to give your home or business a new appearance and feel, talk to our experts about carpet selections that can help you bring your design goals to life.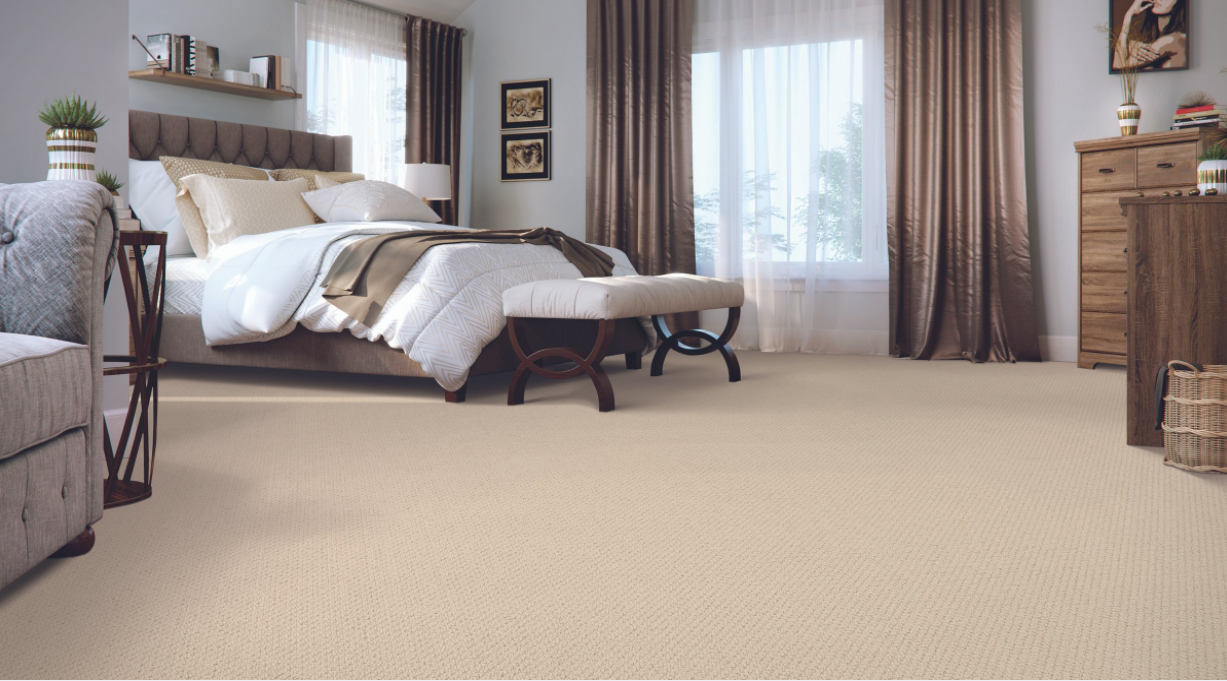 Finding the Right Carpet Selection for Your Design Space
Have you decided on carpet floors but still aren't 100% sure about what brand or style you want? We are here to help. While we do offer a huge variety of choices, we never want you to feel overwhelmed or like you're missing out on options you don't get to see. That's why we take the time to assess your desires and needs for your new flooring. By gathering information about your lifestyle, personal style, and budget, we can eliminate the options that don't fit your needs, leaving the ones that match better.
Ambitious homeowners will find an incredible choice of flooring materials that will turn their interiors from ordinary to exceptional when they visit our store. We are happy to offer high-quality options suitable for almost every interior area. With so many appealing options, selecting one that completely matches your aesthetic tastes and practical requirements may be more exciting than you imagined.
When you walk through our doors, you'll find a wide range of name-brand products, including premium options from brands like:
Downs™
Kaleen™
Gibraltar™
Kane Carpet™
Stanton™
A Home Guide to Carpet Types
Frieze Carpet
Frieze carpeting is extraordinarily plush and is made from a cut-pile construction. Well known for its ability to camouflage dirt and stains, this carpeting type is one of the softest to the touch. Frieze offers a knotted appearance that creates a textured aesthetic to any area while merging colors and patterns.
Loop & Cut Loop Carpet
Loop carpeting has a surface comprised of uncut loop fibers. With an even surface height, a level-loop carpet can be woven or tufted. Additionally, a multi-loop carpet has two or three different pile heights giving a more staggered look. These carpets have a casual look that can easily hide foot imprints. Cut-loop carpeting, on the other hand, is made precisely as it sounds. The fibers of this carpet type are cut straight, giving it a snag-free consistency that is popular among those who have children, dogs, and cats.
Patterned Carpet
Patterned carpets are made using the same methods as printing paper. Flatbed screen printing, rotary screen printing, Stalwart printing, and sophisticated computer-programmed jet printing are some of the design processes used. Contemporary style guides and 5-star hotels are known to flaunt the beautiful patterns that can be achieved with this carpeting type.
Saxony & Textured Saxony Carpet
Saxony carpets are cut-pile carpets that can add a touch of luxury to any room in your home. Saxony Type patterns are resistant to wear, shading, and traffic marks in your home. Textured Saxony uses the same fiber types, though they've been twisted in different directions to offer a coarser appearance.
Berber Carpet
Berber carpet is typically associated with lighter colors that have been flecked with darker shades. Berber is a go-to floor for high-traffic areas in the home thanks to its natural resilience and ability to hide soil. Berber carpeting is often made with a loop-style cut and is one of the most popular carpeting items on the market today.

Easy Cleaning & Maintenance with Carpet
One of the many reasons our customers choose carpeting is for its low-stress maintenance. Carpet upkeep is as simple as weekly vacuuming and annual professional cleaning. While yearly carpet shampooing can assist with any blemishes that may have accrued, our carpets are built to withstand even the toughest stains and foot traffic. Prior to the purchase and use of at-home cleaning products, be sure to check your warranty as some products contain harsh chemicals that can damage carpet fibers.
Professional Carpet Installation Services
After you've chosen your perfect carpet selection, utilize our professional services when it comes time for carpet installation. With experienced technicians on-site, we install the products we sell to ensure they last well into the future. Our craftsmanship and confidence in our products and services are backed by some of the industry's best warranties.
If for any reason our products fall short of your expectations or you find the same carpet flooring for a better price elsewhere, call us within the first 30 days of your purchase. Our Ultimate Confidence Guarantee and Price Protection Guarantee ensure you get the high-quality products and services you deserve.
Contact us today to learn more about our carpet flooring services. We proudly serve customers throughout Brookfield, Waterville, Waukesha, Richfield, and Grafton, Wisconsin, and the surrounding areas.