Ceramic Tile in Brookfield, WI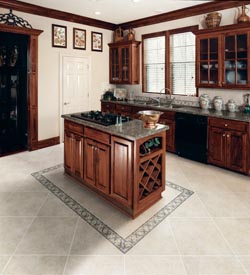 Add flooring to your home that's as attractive as it is versatile and durable. When you visit our store to explore our selection of ceramic tile, you'll discover unbeatable prices and a wide selection of products manufactured by some of the industry's top-tier brands. We offer several options for high-quality flooring at budget-friendly costs.
Take advantage of the flexibility of design offered by this product. Our store offers both small and large sizes in numerous textures and color combinations. Enhance the appeal and value of your property with the stylish, cost-effective choice of ceramic tile.
With a limitless variety of colors, sizes, textures, and patterns available in our collections, you are sure to find the style of ceramic tile flooring that perfectly suits your aesthetic tastes. From bright colors to neutral tones, these tiles provide a superior level of beauty, sophistication, and class regardless of where you decide to place them. Many property owners opt to install ceramic tiles in:
Best of all, ceramic tile flooring is the ideal solution for anyone who doesn't want to compromise quality, yet must adhere to a strict budget. You'll truly get the best of all worlds by making this selection.
Explore Many Tile Flooring Types
Tile comes in many different colors and sizes; however, most tile floors can be categorized as non-porcelain ceramic or porcelain ceramic. Depending on your family's flooring needs, one type may be more appropriate than the other. Talk to our team to learn which type of porcelain is best suited for your lifestyle and budget, or read on to get more information about each:
Non-Porcelain Ceramic: Most traditional ceramic flooring products are non-porcelain. The reason for this can be attributed to economic considerations during the manufacturing process. For example, compared with porcelain, non-porcelain ceramic uses materials that are more common and affordable. This also means that non-porcelain ceramic floor tiles are better fits for shoppers on budgets.
Porcelain Ceramic: Like traditional ceramic, porcelain ceramic flooring consists of a mixture of clay. However, thanks to its 50% feldspar formula, porcelain is stronger and not quite as affordable. Some of the perks porcelain ceramic offers include increased scratch and stain resistance, as well as purer color and nominal water absorption. An investment in porcelain ceramic is an investment in a long-lasting, beautiful floor.
Choose from a large selection of ceramic tile that complements the existing layout of your home or office. We offer ceramic that's glazed or non-glazed – glazed, meaning it features a glass-surface finish as well as finishes in either high-gloss or matte. The versatility is simply outstanding. A tile floor made of ceramic comes from natural clay, which is then formed into a shape, fired in a kiln, and cooled before it is ready for use as flooring. This process yields a tremendous variety of textures, colors, shapes, sizes, and finishes that can fit any style or design you have in mind.
With so many choices, the possibilities may seem endless, but our flooring specialists are happy to help you narrow down your selection. Visit our showroom to speak to one of our knowledgeable reps about your ideas or upcoming project, and let us point you in the right direction.
It doesn't get much friendlier than ceramic floor tiles when it comes to maintenance. The surface of a ceramic tile floor does not absorb moisture, dirt, or stains. Long lasting and strong, ceramic tile only requires occasional sweeping, mopping, and light vacuuming. Cleaning your tile surfaces with water is effective for ongoing maintenance efforts. There is no real need for expensive cleaning agents and potentially harmful detergents.
The best way to maintain your floor's appeal over time is to wipe up or mop spills as they happen. While ceramic tile is non-porous, it's best to clean any problem areas as quickly as possible.
Let Our Team Install Your Ceramic Tile Flooring
Investing in new ceramic tile floors is a significant financial decision, one that will affect your home's value and visual appeal. That's why it's in your best interest to secure professional installation services from a team with several years of experience. Don't risk your purchase, or your home's condition, by allowing amateurs to handle your new ceramic floor tiles. Instead, trust them to our flooring experts.
Our skilled team arrives at your home with all of the tools and equipment needed to install your ceramic tile flooring. We work quickly and carefully to ensure you and your family can get back to enjoying your living space as soon as possible. Plus, we take time to keep our workspace clean and minimize safety hazards. You never have to worry about our team interrupting your routine for longer than necessary.
Ceramic floor tiles are unique in that they are highly customizable. This means that, if you prefer, our installation specialists can lay them according to your preferences. Do you have a particular pattern or picture in mind? We can install your tiles according to color, size, and shape – your imagination is the only limit. Talk to our team about your ideas, or ask for our professional recommendation.
Your satisfaction with your new ceramic tile product is important to our team. That's why we invite you to check back with us after 30 days of use. If you don't love your four or five-star rated floor after a month, for any reason, we'll replace it – and we'll even cover the cost of the labor.
Additionally, if you encounter any installation issues after our work is done, we'll return to resolve them at our own expense. It's just one more reason local families turn to our team first for flooring satisfaction.



Contact us to learn about the benefits of ceramic tile. We serve families in Brookfield, Waterville, Waukesha, Richfield, Grafton, WI, and the surrounding areas.