Laminate Flooring in Brookfield, WI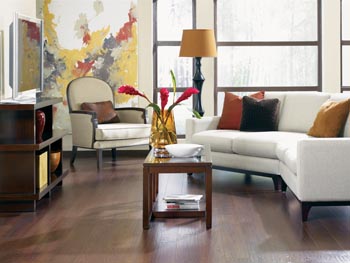 Make any room stand out when you choose the laminate flooring in Brookfield, WI, from our team. When you're looking for the perfect option to complement your home décor, you'll want to take advantage of our wide range of products at prices that fit any budget. We offer a broad selection of laminate wood and laminate tile flooring that is visually appealing and highly practical. This flooring material balances durability, and its good looks and value pricing allow you to expand your decorating ideas without increasing your budget or sacrificing quality. From luxury vinyl tile and other luxury vinyl flooring, we have flooring options to fit your budget.
Bold Laminate Wood Flooring from Top Brands
There is no need to sacrifice quality when you choose from our laminate collections. Laminate wood flooring offers a luxurious look for any space at a budget-friendly price. Each option for laminate floors is available for a low price, making these floors one of our most popular products. This material is a customer favorite due to its beauty, price point, and ease of installation.
Whether you prefer a modern, classic, or traditional look in your home, we carry the perfect laminate flooring pattern to suit your tastes. One of our highly trained associates helps you select laminate floor tiles that make your flooring visions come to life. Tell us about your lifestyle and design preferences, and we are happy to show you our variety of laminates for any space. And, because we update our inventory every season, you'll always know that you have the most diverse options for your modern home. Our showroom includes brands from the following leading manufacturers in the flooring industry:
• Mannington™
• HomeCraft™
• Mohawk™
• Pergo™
• Shaw™
• Armstrong™
Why Select Laminate Tile Flooring?
Sometimes, slight changes can make a huge impact. If you are ready to transform the look and feel of your home, updating your floors is an easy and affordable place to start. With this stylish and durable flooring, you can achieve any design goal that you are envisioning.
Laminate tile flooring not only simulates the look of other high-end materials but it offers an easy installation and affordable price point. Whether you choose to install it in your bedroom, kitchen, or bathroom, these floors add style and practicality to any room in your residence.
If you have children or pets, then you already understand the importance of selecting a sturdy flooring material to hold up to constant use. Laminate flooring is made to last, making it the perfect option for busy households. Laminate floors are made of materials that are naturally resistant to the growth of mold and bacteria, and the outer layer protects it from stains and smudges making cleanup a breeze.
The stunning design you choose now has the lasting power to withstand heavy foot traffic and daily use. These floors are engineered in four layers to provide homeowners with the dependability and aesthetics they seek. Each layer plays a pivotal role in protecting the integrity of your floors. No matter how much use you plan on getting out of these new floors, they are sure to stand the test of time.
First-Rate Laminate Flooring Installation
YYou've made your new floor selection - make sure you undergo the best installation. Instead of spending time and resources looking for a qualified installer, take advantage of a laminate flooring installation from our team. We work carefully to ensure that your new purchase is handled properly. Your installation will be done right the first time when you rely on our flooring experts to install your style of choice. Our flooring contractors have the skills and experience to properly install your new laminate tile flooring in any room of your home.
The Difference our Store Makes
What distinguishes us from other flooring stores? We offer clients an impressive selection of laminate in a broad spectrum of hues and designs at an affordable rate. Our reputable flooring company stays competitive by maintaining excellent buying power in the market. This network of buying power allows us to offer you quality laminate flooring at a price you won't believe. Discover the possibilities today for all your flooring projects.

Contact us to speak with our team about your new laminate flooring. We proudly carry a full selection of laminate wood flooring for customers in Grafton, Waterville, Waukesha, Richfield, and Brookfield, Wisconsin.