Your Source for Luxury Vinyl Flooring in Brookfield, WI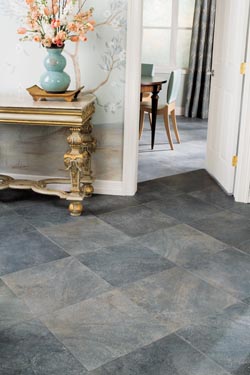 The flooring in your home or business helps to set the tone of the entire space. You want to make sure that the type of floor you pick looks good, but is also up to the challenge of the day-to-day wear and tear it will experience. Few options are able to deliver such resilience and style as luxury vinyl flooring in Brookfield, WI.
Floortech Interiors is a flooring store dedicated to delivering a wide variety of gorgeous luxury vinyl tile and plank flooring to customers just like you. This resilient and attractive flooring comes in a wide variety of different textures, designs, and colors, which makes it easy to find the perfect match for your space.
State-of-the-Art Resilient Flooring
Advancements in flooring technology have helped to make vinyl flooring one of the most sought after options for many homeowners and commercial property owners. How did this happen? Well, today's luxury vinyl plank and tile doesn't look like the bland, uninspired vinyl of the past. Instead, it has the rich look of many of the more expensive, less durable flooring options. Even better, LVT is able to perfectly mimic natural flooring options, such as hardwood and stone.
What does this mean for you? It means if you have always wanted the look of hardwood or natural stone, but didn't want to worry about cost or upkeep, then you can finally have your cake and eat it too. Our luxury vinyl tile and plank can be customized to fit the exact stone or wood grain look you are after, while keeping your costs much lower.
The ability to mimic other, more expensive flooring options isn't the only benefit to choosing our luxury vinyl flooring. This floor option also delivers a variety of great benefits to homeowners, including:
Easy Upkeep & Maintenance
Wide Variety of Designs & Styles
Resistance to Impact Damage
Resistance to Heavy Foot Traffic
Resistance to Moisture & Staining
Professional Luxury Vinyl Tile Installation
No matter what type of flooring you choose, at the end of the day, it is only as good as its installation. With that in mind, our flooring showroom is proud to offer comprehensive luxury vinyl tile installation services to our clients. These services allow you to rest easy knowing that your luxury vinyl tile or plank floor is going to look and function just as it did in our showroom.

Contact us for more information about our current selection of luxury vinyl flooring. Our showroom is proud to serve customers located throughout the Brookfield, Wisconsin, area.