Affordable Luxury Vinyl Tile in Brookfield, WI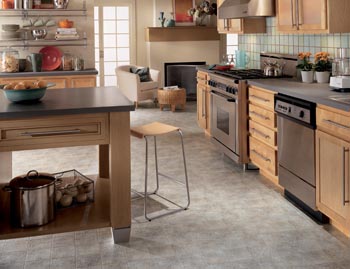 Create the look you have always wanted for your dream home with a floor that is low maintenance and affordable. Luxury vinyl tile is a budget-friendly and stunning flooring option, offering appealing designs to impress family and friends when they come to visit. Providing the appearance of harder flooring surfaces without the high price, this style is the most accessible option for homeowners throughout the area.
If you want the look of real wood grooves and grains, luxury plank flooring features immaculate designs at an affordable price for any household. Your guests will not be able to tell the difference between designer hardwoods and your custom vinyl flooring. Let our trained flooring staff help you pick out the perfect patterns and intricate designs for your ideal floors.


Durable & Stain-Resistant Resilient Flooring
Busy families and active households need a floor that can stand up to anything life throws at it, which is why resilient flooring is such a popular option. Natural and synthetic materials are carefully put together to create durable flooring fit for high-traffic areas, pets, and children. This vinyl tile is available in several sizes and levels of thickness to meet your particular needs while keeping a classy look.
Luxury vinyl tile is easy to clean and needs very little maintenance to last for several years without the need for repairs. As long as you use a cleaning product approved by the flooring manufacturer, your floors remain spotless. Spills and stains are a thing of the past with the protective coating present on top of every finish. Made with several layers of protection, LVT flooring is able to handle tough messes, such as:
The Many Layers of Luxury Vinyl Plank Flooring
Once you decide to install new luxury vinyl plank flooring in your house, you'll then need to choose which sheet vinyl you want for your backing. Felt is a popular choice among informed homeowners because it adheres directly to the sub-floor of your home. Fiberglass is newer on the market and offers a more cushioned feel underfoot, with better stability to resist damage and everyday wear.


Your Trusted Source for Luxury Vinyl Tile Installation
To ensure your new floor lasts for years to come, let our professional flooring experts handle the installation process. Our luxury vinyl tile installation service guarantees that your floor is set down correctly so it does not shift or become warped with bubbles underneath the surface. Backed by our Ultimate Confidence Guarantee, you can rest assured that your flooring is going to last.
Let us remove your old, damaged, or worn-down flooring and install brand new luxury vinyl tile in your home. Upgrade now to start enjoying your new floors! Let us do all of the work for you, all you need to do is pick out the flooring you want and schedule an installation appointment. We have the experience and necessary tools to lay down luxury vinyl floor tile in any home.



Contact us today to schedule your luxury vinyl tile installation today with an experienced flooring technician. We install flooring in homes within Brookfield, Waterville, Waukesha, Richfield, and Grafton, Wisconsin.